Current Recommendations____
_________________________
Illustrator:
Christian Robinson
Publisher:
Chronicle, 2014
If there were a children's book award given for sheer stylishness, this book would be the clear winner!*

What an impressive combination of art, design, and typography choice.

The art itself was created in acrylic, and

Robinson

has provided big, flat shapes with bold outlines and repeating decorative patterns.

These are usually set against solid backgrounds with no extraneous details.

Some of the best of the art are such pages as the opening which shows just Josephine against a block of color.
The art itself reflects the visual and written record of the style of

Josephine Baker

(1906-1975) who grew from an impoverished childhood to become the reigning queen of dance halls in Paris and eventually garnered the respect that her earlier life in the United States denied her.
Opening and closing endpapers in bright rusty orange feature a silhouette- like image of Josephine bowing the reader into the book and facing back into the book at the close.

Chapter openings framed in stage curtains divide her life into segments by year, and end notes include Further Reading and Quote sources as well as statements from both the author,

Patricia Hruby Powell

, and the illustrator.

There is a rhythm set up in which a double spread with art and a smaller amount of text alternate with facing pages on which a lot of text moves the biography along.

Baker's actual quotes are set in a type face different than the san serif one used for the major text.
The hard life of the daughter of a single mother who scrubbed floors, she always dreamed of dancing.

Starting out with a traveling family of vaudevillians, she managed to get herself a spot dancing and her immense talent quickly became apparent to others in the segregated world in which she lived.

It was apparent early that her talent for dancing (and for enhancing the effect with unusual and often minimal costumes) was her key to success on stage.

The author comments that she "wiggled like a serpent, slunk like a panther, and boxed like a kangaroo…" and that would lead to stardom. If there wasn't a job dancing, she served as dresser for others in the show.
But opportunities in the United States were limited and Paris was to be the key to the success she craved.

Tours through Europe and South America followed to more critical acclaim.

But prior to WW2, Europe "had come to a hard simmer," and when war finally broke out, Josephine involved herself in a variety of unexpected activities, including working in a soup kitchen and serving as a spy for the resistance.

The illustration of her tucking a bit of information into her stocking is humorous.

Her life after the war was lived luxuriously but as she spent money faster than it came in, she had to tour again.

The appearance in Carnegie Hall at the age of 67 brought her acclaim and she continued touring.

Finally, a performance in a Paris venue brought more acclaim, and as many creative artists hope, she died doing what she loved doing, that night after the show.
The author creates imaginative language and doesn't avoid words that child readers may not know, like "effervesced."

"C'est magnifique," in fact described her.
*A reviewer once commented about the work of

Evaline Ness

that it was "as stylish as a Gucci bag."

Whether as a compliment or a criticism isn't clear!
Publisher:
North South, 2013
The artist creates a fanciful array of colors and patterns with no particular connection to a realistic depiction. The girls' dresses, for example, are not simply an exploration of color and pattern. The bell-like shapes of the ball gown skirts make another pattern of their own on the page. Attenuation is a hallmark of Duntze's art: her women are about 9 heads tall, from top to toe, and clearly thin as rails. The illustrator uses a variety of page layouts. This includes some double spreads, set amidst small individual pieces of art facing single page spreads. Type is placed in a variety of locations on these borderless pages.
An interesting experience with youngsters could be to use the Duntze version and compare It with a different retelling.

This

is only one of many retellings which often reveal variation in plot and language. Another interesting comparison could involve children in looking at either her Rapunzelor her retelling of the Princess and the Pea.
Click

here

for Purchase and Inquiry.
"Saint-Saens's: Dance Macabre" by Anna Harwell Celenza
Illustrator:
JoAnn E. Kitchell
Publisher:
Harcourt, 2013
In the mid 19th century the streets in Paris were full of life, though underneath the city is a cemetery which fascinated people to the degree that these catacombs were open for people to visit. The widely respected composer, Camille Saint-Saens was one of the many visitors. The result has become one of his most popular pieces of music.
For those not familiar with this piece the publisher has included a CD with a performance by the well-respected Pittsburgh symphony led by one of the most important contemporary conductors, Lorin Maazal. The author and illustrator have here produced the 8th title in a very popular series. It runs from Bach to Ellington. Celenza deals with only part of the composer's life, well written to bring his thoughts and words to life for young children. A prominent poet of the time, as well as a very popular singer also included in the action surrounding the composition of this ballet.
Kitchell's art continues the visual approach in the earlier books. A firm black pen line outlines naturalistic colors with little attempt to create the third dimension. Celenza, a professor of music, presents authentic research in an author's end note, though the book itself can communicate with children without this.
An interesting aspect of this particular book is that it describes the reaction when the work was first performed. Some people in the audience applauded but others shouted their displeasure, for instance "Scandalous!" How interesting that the work elicited such strong feelings in the same way that Stravinsky's *Rite of Spring did. Musicians who explore the boundaries of conventional composition, like **Charles Ives, are often not appreciated until much later.
Authors of books for children about the arts are particularly important in this era when children are far less likely to encounter music and arts program in the schools. The job of acquainting children with the arts thus often falls now to grade level generalists who can certainly appreciate the help that books like this offer them.
*Book about this by Lauren Stringer is review elsewhere in the "music" blog section.
**See Charles Ives Review elsewhere in the "music" blog section
Click

here

for Purchase and Inquiry.
Previous Recommendations
_________________________
Author:
Rachel Isadora
Publisher:
Nancy Paulson Books, 2012
"Bea At Ballet"
, by
Rachel Isadora
, is much more than a ballet primer for the preschool set. True, it includes clearly labeled items, from clothing to equipment to positions, simply but appealingly portrayed on wide white spaces with accurate terminology. Etiquette and expectations during lessons are depicted as are genuine fascination and love of ballet.
Click
here
for purchase and inquiries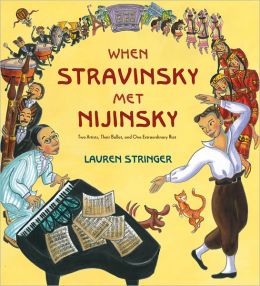 Author:
Lauren Stringer
Publisher: Harcourt, 2011
Click

here

for purchase and inquiry.