Current Recommendations____
________________________
"Romeo and Juliet: Graphic Novel" adapted by Gareth Hinds
Publisher:
Candlewick Press, 2013
Reviewer:
Sandy Brehl, Author, Educator
Graphic novels, original stories and adaptations, are proliferating in both adult and children's literature.
Gareth Hinds
has produced an impressive collection of graphic adaptations of classics of western literature.

He has done so without sacrificing their intensity of story or eloquence of language, maintaining accuracy with names, settings, history, and politics.
His recent release of
Romeo and Juliet
sustains this level of excellence, earning starred reviews from Kirkus and Horn Book, nomination for YALSA 2014 Great Graphic Novel, and a Junior Library Guild selection.
I've seen the movie, the play, West Side Story, high school productions, and read the original (and Cliff's Notes). This graphic novel adaptation is, to me, the best possible version for young readers to appreciate both the intricate language and the nuanced drama of Shakespeare's timeless Romeo & Juliet. The graphic format itself demands engagement, and Hinds allows every reader to identify by presenting a multitude of ethnicities within the classic time and place of the original story. He provides a brief author note to address this: "I chose to cast my retelling of Romeo and Juliet with multiracial characters to reflect how universal this story is. It is not a statement about racism or racial conflict."
He also maintains iambic pentameter throughout, even when editing or occasionally adapting language. Where some complex puns and word choice could confuse, he simply provides an asterisk and short explanation on the bottom of the page.
Hinds has produced numerous graphic novel adaptations that strike a brilliant balance between authenticity and accessibility. They make classics relevant, even enticing curious readers to pursue the original works. For those whose only encounter with these works is within the pages of a Hinds graphic novel, the experience will be positive, memorable, and worth talking about with friends.
Shakespeare would be pleased.
The precursor to theatre today is the

vaudeville

which was so popular until mostly eclipsed by the advent of movies. But there were important connections between the two, and one of them is explored in this book.

Buster Keaton

, widely revered among people knowledgeable about the theatre, has been largely overlooked today by the general public. Phelan takes facts about the life of this performer and his family and sets these in the context of a story about an imaginary character, Henry, and a group of other young children in a small Michigan town in the early 1900s.
Young performers were common the vaudeville despite laws about underage workers, but if a performing troupe needed another person, children were drafted. This was the case with "The Three Keatons". The "glamorous" life of a traveling acting team was an inspiration to young Henry, though he is often distracted by the usual summer-time activities of a small Midwestern town. A love interest turns out to be more enduring for Henry, as we find out in the brief coda at the end of the story.
Matt Phelan's gently hazy, pastel pictures of life in this place and time are presented in small cartoon panels of varying sizes. He uses these to show, rather than tell, much of the action. Narration accompanies many of the panels though in several places a wordless sequence shows the action. Henry does narrate in words as on pg 121 the artist shows neighbor Sally being interested in Henry. She is visually distracted when two other boys come on the scene.
Phelan is a vaudeville buff and is able to insert names and information not widely known today. Early in the book, listing various of the performers, he refers to Sandow, the strongest man on earth. He was an actual performer who toured the world with his amazing demonstrations of strength. Such other performers as Peg Leg Bates and

Nora Bayes

are also included. Phelan also includes such arcane facts as the star is next-to-last on a program, not last, because the last slot is filled so the audience has time to leave.
Click

here

for purchase and inquiry
"
The Templeton Twins Make A Scene: Book Two
"
By Ellis Weiner
Reviewed by:
Sandy Brehl, Educator
The Templeton Twins series has often been compared to Lemony Snicket's Series of Unfortunate Events titles.
The Narrator doesn't just cross the fourth wall
, he reaches beyond the pages and yanks readers by the collar. In this second title of the series he nearly shakes the daylights out of readers who haven't yet read the original title,
The Templeton Twins Have An Idea.
The Narrator also sprinkles numerous vocabulary lessons throughout his sarcastic remarks about the events of the story. This includes the roles and terminology of theater production, as well as more broadly referenced theatrical language throughout the story of John and Abigail Templeton's adventures at their father's new job, professor at the Thespian Academy of the Performing Arts and Sciences.
Professor Templeton's role at the Academy is to construct and implement his invention, which allows featured performers to be shown in live "close-up", via a mobile, lighted, magnification device. The twins try to solve multiple puzzles and threats to his invention from a known villain who attempts to profit by claiming the patent.
As far-fetched as the descriptions and drawings are, I imagine some mechanically-minded theater fan creating such a thing. Whenever I see someone use an electronic tablet I picture decades-old episodes of Star Trek: Next Generation with their ubiquitous ultra-light, handheld computer tablets. With the literary suggestion offered in this story, perhaps future live productions will utilize technology of this type in place of Jumbotron displays.
The footnotes, quizzes, recipes, and other various additions throughout this story amuse and reinforce the farcical tone of the story. As an admirer of illustrator Jeremy Holmes I longed to see the final art, which was not yet available in the ARC copy reviewed. The cover art and work from the previous title in the series assure me that readers will find ample amusement and enhancements of the text in his work.
Fans of mystery, farce, word play, series, and outlandish characters will enjoy this book and learn quite a bit about the theater in the process. Additional teaching resources can be found on
TeachingBooks.net.
The Narrator can be followed on Twitter @TheTTNarrator.
Previous Recommendations
________________________
"Drama" by Raina Telgemeier
Raina Telgemeier
is the author/illustrator of the award-winning graphic novel, SMILE. Her latest release shifts the setting from high school to middle school and the tone from tense to lively. The age-appropriate "drama" of DRAMA is utterly real in its portrayal of crushes, crashes, friendships, confusions, and ultimate resolutions. All of this unfolds through the events involved in a middle school drama production. Callie, the seventh grade central character, is ecstatic about being in charge of set design for their next production, including her over-the-top ideas for simulating a cannon exploding onstage.
In the course of the story the typically "unseen" processes of staging a musical are revealed as challenging, intricate, and essential to the success of the show. Callie and her friends are every bit as interesting and complex as the "stars" of the show, including a very matter-of-fact and balanced treatment of talented twin boys, one of whom is gay.
Telgemeier's pacing, scripting, visual humor and angst are perfectly suited to the story. The parallel tensions of preparing for opening night and navigating middle school emotions and relationships make this an appealing read for its target age group.
The increasing popularity of graphic novels (or illustrated narratives) has generated increased publishing in this format, resulting in specialized categories of awards. In this case, as with her earlier SMILE, Telgemeier's storytelling and illustration talents transcend these categorical lists. DRAMA is a
Publishers Weekly Best Book of 2012
(starred review),
a Washington Post Best Book of 2012, a New York Times Editors' Choice,
a Booklist Editors' Choice (starred review), one of NPR's Graphic Novels that Flew Under the Radar, a
New York Public Library's 100 Titles For Reading and Sharing
, and a School Library Journal Top 10 Graphic Novels of 2012 (starred review), among others.
Click
here
for purchase and inquiries
"Shakespeare's Scribe" By Gary Blackwood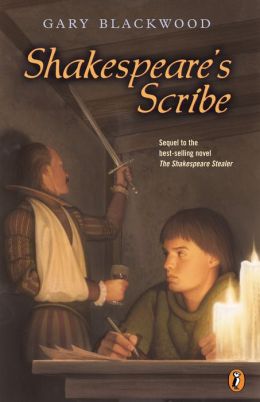 Author:
Gary Blackwood
Publisher:
Penguin, 2000
Reviewed by:
Ralph Bielenberg
Shakespeare's Scribe continues the adventures of Widge , the orphan whom we met in Gary Blackwood's earlier novel, The Shakespeare Stealer. We follow Widge's first-person narrative of the author's conjecture of the 16thcentury theater life, from the writing and rehearsing through to the performance. The troupe has become this teenager's true family.
Mr. Blackwood does not aspire to historical accuracy, but the flavor of backstage dressing room flutter before an afternoon performance is very real: boys and men becoming actresses, actors' needles making last-minute alterations for an understudy, rivalries surfacing between apprentice actors, and the audience clamoring for the play to begin.
There is a plague this summer in London, and the theatre are closed by the Queen's decree. The Chamberlain's men decide to transport their operations into the provinces where laws are less strict. Drenched by rain they plod along on foot and horseback ankle-deep in mud. They are held up by bandits, and have their wagons torches by a rival troupe. Treated as vagabonds, one town even forbids them to enter.
The story deepens when Widge chances to meet a man who claims to be his father and who travels along until he is accused of stealing their meager earnings. As the summer goes along, beautiful truths are expressed about life, love, friendship. Widge comes to learn that you are what you make yourself, not what your parents are.
And without parents this is not easy. But at the end, Widge comes to understand: "Though I was as uncertain of my origins as I had been when we set out on the tour, I had not gone through all the trials of the past few months without learning something about who I was and what I was capable of. I had learned that, when the occasion demanded it, I could push aside my fears in order to aid a friend that I could mend a broken arm or a broken head that I could take up a sword in defense of someone I cared for."
Click
here
for purchase and inquiry