Current Recommendations
_________________________
"Frieda and Diego:
Art. Love. Life.
" by Catherine Reef
Publisher:
Clarion, HMH, 2014
It is interesting to note that though Frieda is named first in the title, the first full chapter is about her muralist husband, Diego Rivera. The book includes twelve reproductions of his work and only six of hers, perhaps a constraint of copyright? Setting the varied life this intense couple lived together and apart and together again, author Reef chose to include nearly 40 archival photographs showing the people, the environments, and the art which surrounded the couple.
Readers meet the artists when they are already adults. Before they married, he was "more than twice Frieda's size" and "also, at 42, twice her age," (p.4) perhaps a reason his family objected.
The book includes extensive treatment of Diego's family (parents, aunts, uncles, and servants.) It also reports on the politics of the time, his student days in Europe, seeing art and making art. Sent to Italy, supported by the Mexican government to study, in return, he had to paint murals* in public buildings.
A succeeding chapter describes Frieda's similarly large family. Reef offers many charming, small, and specific details. For example, when confined because of polio, Frieda would breathe a mist on her window and draw a door.
By 1937-38, Frieda began to be recognized as an artist in her own right, due to the efforts of writer Andre Breton as he helped her gain status as a surrealist.

The author provides more details about each of the artists' amorous affairs than many readers will find interesting. The interaction both of them had over extended periods of time with the rising and falling fortunes of communism led to their acquaintance with party leaders such as Leon Trotsky. Toward the end of her life- most of which she spent as an invalid- Frieda nonetheless made the effort to attend a communist public rally. In summarizing her importance, Reef reports that Frieda's paintings reflect "…a frank depiction of a woman's inner life." (p. 118)
The end matter includes a time line, a bibliography, a large number of illustrations, both archival photographs and reproductions of art by Kahlo and Rivera. It also includes works by other artists like Misha Reznikoff, to set a more complete context for the artists' works.
_______________________________________________________________________
*The flowering of mural paintings in Mexico grew in the context of intense communist ferments going on and around the world at the time.

Two other Mexican muralists who came to prominence at the time were David Alfaro Siqueiros and Jose Clemente Orozco.
"Everybody Paints!
The Lives and Art of the Wyeth Family
" by Susan Goldman Rubin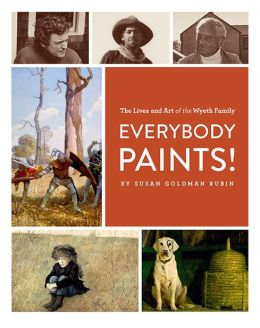 Author:
Susan Goldman Rubin
Publisher:
Chronicle, 2014
In 1882, N.C. Wyeth, family patriarch, said "art is a thing that has to be studied right." This man, whose mentor was

Howard Pyle

, was reflecting on the crucial role illustrators played in an age when magazines were not only popular but pervasive. N.C. apprenticed with Pyle in a class of only twelve and despite the reputation and financial success of his mentor, he always felt that illustrators were less respectable than painters. His several children were encouraged to draw and his son Andrew was home-schooled. This, perhaps, reflected his father's view, "No top-notch artist ever graduated from college." (p. 35)
Andrew studied with his tough task-master father but, with his father's encouragement, went to Maine and there honed his painting skills. His early work in water color was succeeded by an interest in egg tempera. The accidental death of N.C. left the family rudderless. Reflecting his father's interests, Andrew continued his realistic paintings as many artists of the time were drawn into

abstract expressionism

. In turn, Andrew tutored his son, Jamie, at home and he learned his visual skills from both his father and his aunt Caroline, who was a very traditional artist. He later reflected, "It wasn't very interesting, but it was important." (p. 76) Author Rubin raises a question that persists: "[Is] it wrong for an artist to be popular?" (p. 48)
The representational art of the Wyeths remains widely popular as other artists explore less realistic modes of expression, and as a result, some remain inaccessible to the public.

The question of popularity has also been raised regarding the work of

Norman Rockwell

.
In a small, but elegant format, Rubin presents each full-page reproduction individually on a page so they are large enough to appreciate details. There are reproductions of paintings and archival photos. Dark-toned papers feature a variety of colored print. She also selected an interesting contrast in types of subjects represented in the paintings selected for inclusion in the book. For example, she chose to include a painting Jamie did of President JFK and another he did of a pig to show his skill in a wide range of subjects. Extensive end matter includes bibliography, index, image credits, and locations of the art works featured.
"The Noisy Paint Box" by Barb Rosenstock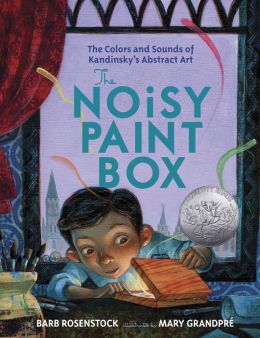 Illustrator:
Mary Grandpre
Publisher:
Alfred A. Knopf, 2014
Kudos to this author/illustrator team for trying to capture the exuberance and energy of the Russian painter,

Wassily Kandinsky

(b. 1866, d. 1944), in their smaller format on paper.

Everything about the big, bold work familiar to museum goers demands attention and this book connects his adult work with his childhood.
Little Vasya (to become Wassily later) was intended to be a "proper" Russian child.

Stiff and straight were the watchwords in his household, aptly depicted by the illustrator best known for jackets and interior art for the Harry Potter series.

Here

Grandpre

provides interesting details (the huge fish on a platter, the abacus and scales in the background), all depicted in somber colors.

The bird in the cage is apt symbolism for how little Vasya feels.
The palette brightens when Auntie gives him a paint box.

As he begins mixing colors, Vasya begins to hear sounds (whisper, hiss, clink, clanging, tinkling).

Sadly, no one else hears the sounds, as he splashes colors like "powerful navy" and "blaring crimson" and" burbling green."

Such a cacophony of sounds from a little box of paints!
This is the hook that will interest even children unfamiliar with the artist: being ignored by adults and told to stop being silly.

No one empathizes with Vasya, and so he grows up to be a conventional adult, until the drive to create in color the sounds he hears overwhelms him.

Finally freed by the encouragement of his artist friends, he creates something new:

abstract expressionism

.

Though widely acknowledged in the art world, the painting legacy he left is still perplexing to many adults,
In the author's note,

Rosenstock

includes thumbnails of four of Kandinsky's paintings, though they serve as reference only, as the actual paintings are usually quite large.

The author ends on a powerful idea:

"Maybe someday you will go and hear them." which provides a fitting end to the point she is making throughout.
________________________________
Note: For another review, see The Horn Book January/February 2014 page 116.
"Meeting Cézanne" by Michael Morpurgo
Publisher
: Kids Can Press, 2013
A related title which can offer interesting comparisons/contrasts is HAROLD AND THE PURPLE CRAYON by Crocket Johnson (HarperCollins, 1998, 50th anniversary edition)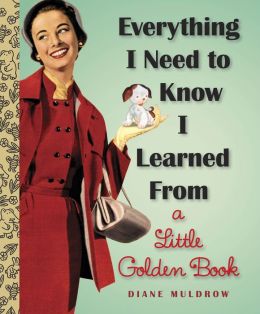 Author
: Diane Muldrow
Publisher
: Random House 2013.
Single and double page spreads vary in time from 1942 through 1963, and were done by well-known illustrators, many of whom went on to fame in book art and other media.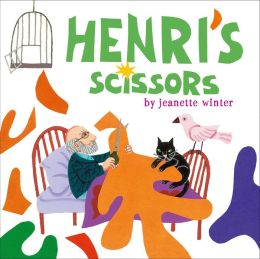 Illustrator
: Melissa Sweet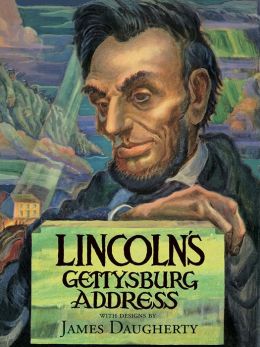 Daugherty's original forward to the book follows his designs for the half title and full double spread title. An afterward by a professor of Civil War studies, Gabor Boritt, describes the context of the situation in which the address was given. A facsimile of the address in Lincolns own handwriting is included. One of the most interesting aspects of the book is the end matter, Daugherty's interpretations of each of his paintings.
_________________________
Publisher:
North South, 2011
Publisher:
Albert Whitman & Company, 2011
The book, first published in Great Britain in 2010, represents an interesting publishing direction for Whitman, better known for books designed to help child readers deal with various problem issues. A commitment to making traditional tales such as these available to children today is important, when few publishers are doing so.